Visual Merchandising Tool: Increase Health & Beauty eCommerce Conversions
Skyrocket your online store's conversion.
Simplified Approach to Product Listing
Improve Your Catalog Sorting Process and Boost Sales & Conventions. Register in the Sortler system:
Connect your online health & beauty online store
Book a demo
Sortler: an Innovative Cloud-based Tool for Online Merchandisers and Other eCommerce Experts
Innovate Your Online Store's Catalog Management for Increased Sales.
Drag-&-Drop catalog management
Take control of your catalog with our dynamic management system. Assign scores to products: the higher the score, the better item visibility on the page.

Or use the drag-&-drop feature to move products manually, thus improving customer engagement.

Innovative Feature for an Unmatched Catalog Variety
Elevate the visual appeal of your product catalog with cutting-edge features and make sure you show the variety of your health & beauty online store:

Curate an exceptional experience for your customers by ensuring that no products of the same color, style, or type are displayed on your catalog page.


Highlight or hide specific items or product groups on category pages, creating a personalized shopping experience.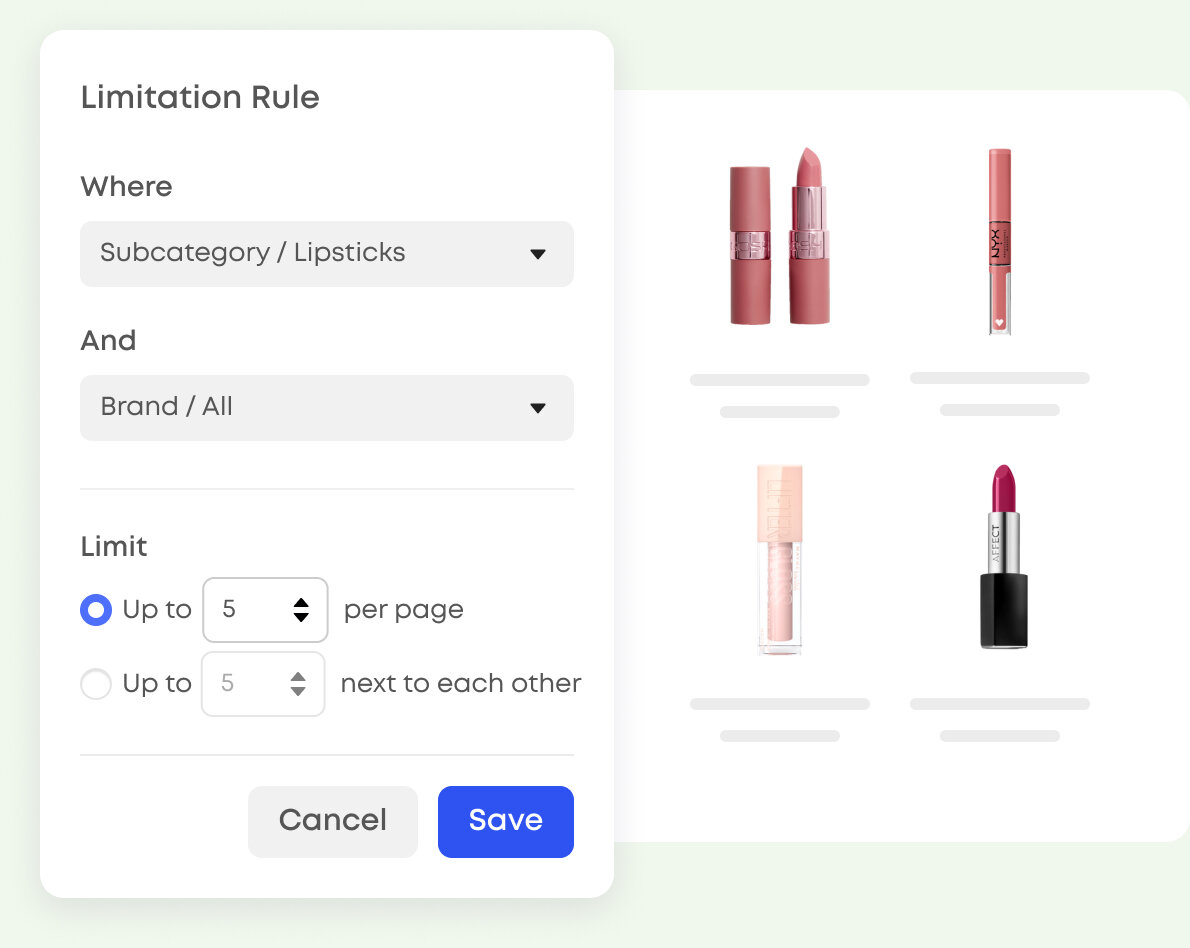 Establishing Sorting Rules for Categories
Take advantage of our advanced sorting options to streamline product management on your category pages. Combine multiple sorting rules to deliver a seamless and hassle-free shopping experience for your customers.

Newest


Bestseller


Most reviewable


Price


Custom Attribute

Poor-selling Products Promotion
Take proper care of your underperforming items to increase their sales:

Tracking low-selling items
Raising the item position to the top
Applying discounts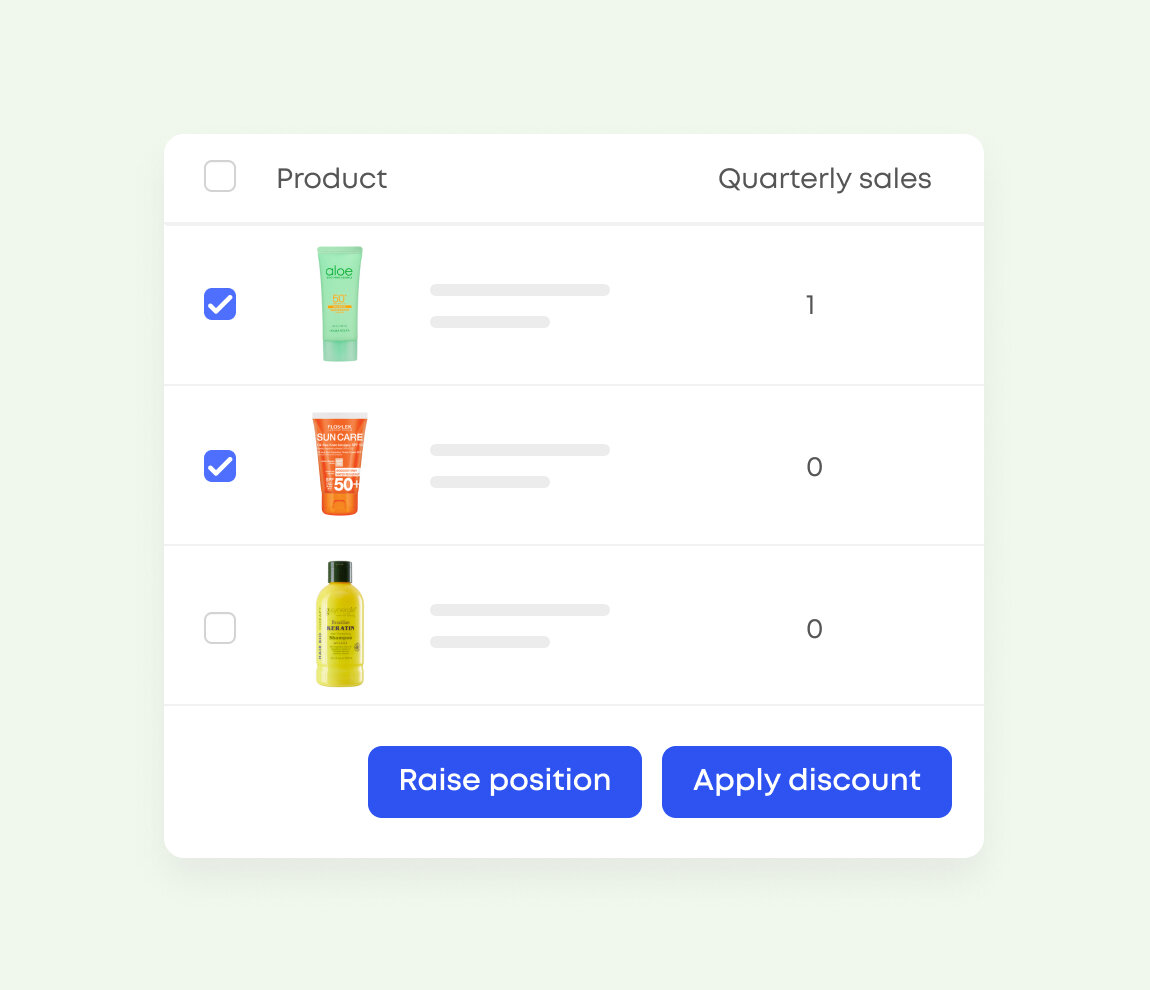 Manage out-of-stock & low-stock products
Specify what percentage of running-out items to display on the page and move the unavailable products down the catalog.

Add dynamic product blocks to any page & place
Add dynamic product blocks to any page of your online store. Place these blocks on your cart page, checkout, CMS, blog page, and any other of your choice.

Use the "Buy button" feature anywhere you want and thus improve your sales.

Benefits
Compatibility
Sortler supports all popular eCommerce solutions, including Magento, Shopify, WooCommerce, BigCommerce.

Simplified merchandising
Your employees, work faster and the less time they spend on online visual merchandising tasks.

No Coding Required
Everything is designed in such a way as to put the smart sorting system into operation without delay.

Built-in emulator
Sortler supports all popular eCommerce solutions, including Magento, Shopify, WooCommerce, BigCommerce.

Backup feature
Our visual product sorting tool has a backup feature to undo the changes made. So you actually risk nothing.

Round-the-clock support
Being in touch 24/7, we're ready to answer your questions in real-time, whenever you need.

All eCommerce CMS platforms supported
Magento 2, Shopify, WooCommerce.
Ready to level up your store management?
NO Coding needed, Plug-&-Play.
Book a demo
FAQ
Why do I need a health and beauty merchandising solution?
Visual merchandising of your cosmetic products allows you to effectively present them in your catalog, making your assortment more attractive to shoppers. The key is approaching the matter strategically so as to invite customers to buy more. That's where tools like Sortler are just irreplaceable since they greatly simplify the catalog management processes, transferring them partly into an automated mode.
Can I use Sortler to categorize my beauty products in a better way?
Sure, Sortler is just perfect for these purposes. You can specify how many products of each category to place on the page to achieve the desired variety and show your assortment in the best possible way. You can also manage product placement within a category, defining the number of items for each brand to display at the top of your catalog. So Sortler is an excellent choice for health, cosmetics, or skincare visual merchandising (or any other category you choose).
What inventory management capabilities does Sortler offer?
You can use Sortler to manage the products' display based on their availability in the warehouse. Determine what percentage of low-stock items should be placed at the top of the page and automatically hide out-of-stock ones.
Will your solution increase product discoverability for my customers?
Sortler is an effective cosmetics merchandising tool that will help you automatically manage product placement in the catalog. You just have to create rules determining which items to hide and which to make visible on the page, increasing their discoverability and stimulating sales.
Can your solution scale as my business grows?
When developing our health and beauty merchandising tool, we considered the possibility of your business scaling. All you have to do is choose the package that best meets your requirements:
Free. Up to 1K products & 1 category included
Business. Up to 100k products & 50 category included
Advanced. 200k+ products & 100+ category included
What makes Sortler better than other catalog management solutions?
Sortler is great for visual merchandising your cosmetic products, and here is why:
Flexibility. You can manage your catalog as you please, changing product display requirements at any given moment.
Automation. You just need to create catalog management rules, and Sortler will follow them independently without your participation.
Data synchronization. You work with a virtual analog of your online catalog and can synchronize data after the changes are approved.
Support for e-commerce platforms. Sortler is compatible with all popular e-commerce platforms, including Magento, Shopify, and WooCommerce.
As you can see, Sortler is an effective cosmetics merchandising tool that can boost your conversions and sales.