Magento Visual Merchandising: Smart Catalog Management & Product Sorting
Manage your online catalog in the most user-friendly way. Take full advantage of the drag&drop feature and smart rules and watch your Magento store's conversions grow!
Optimizing Product Listings in Seconds
Take Your Catalog Sorting Process to the Next Level and Increase Your Sales
Connect your Magento 2 store
Approve & publish to LIVE
Book a demo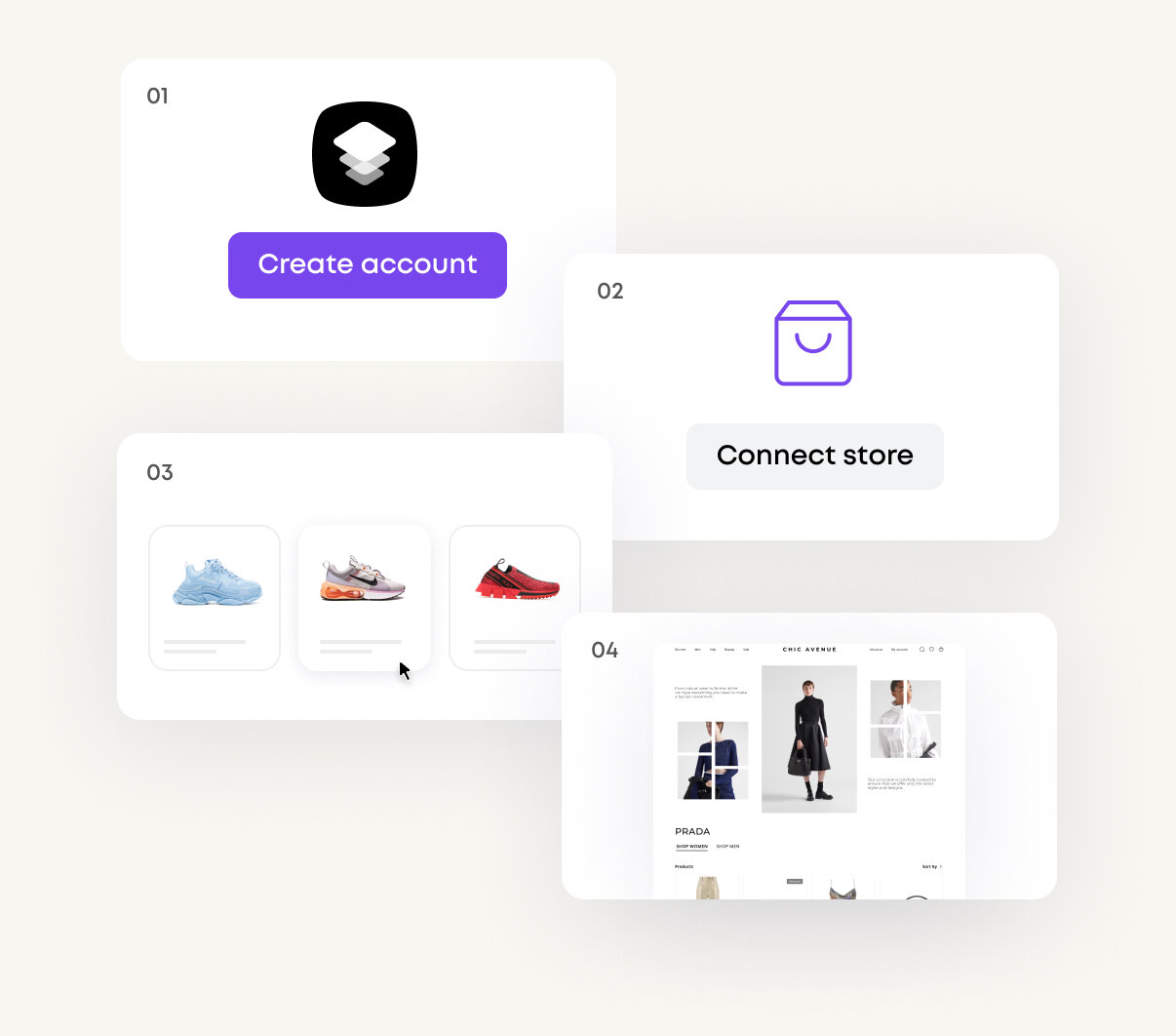 Sortler is an Innovative Cloud-based Tool for Magento Merchandisers & eCommerce Experts
Enjoy smart merchandising. Multiply your sales
Drag&Drop Catalog Management
Assign scores to products to control their position on the page of your Magento store: SKUs with higher scores will be displayed above others in your catalog.

Or move items around the page manually using the drag&drop feature.

Smart Feature for Improved Catalog Variety
Diversify the display of products on your catalog pages:

Ensure there are no products of the same color, style, or type on the Magento catalog page.


Show or hide certain items or groups of products on the category page.

Create Basic Sorting Rules for Categories
Use bulk sorting of products on the desired category page and combine various sorting rules:

Newest


Bestseller


Most reviewable


Price


Custom Attribute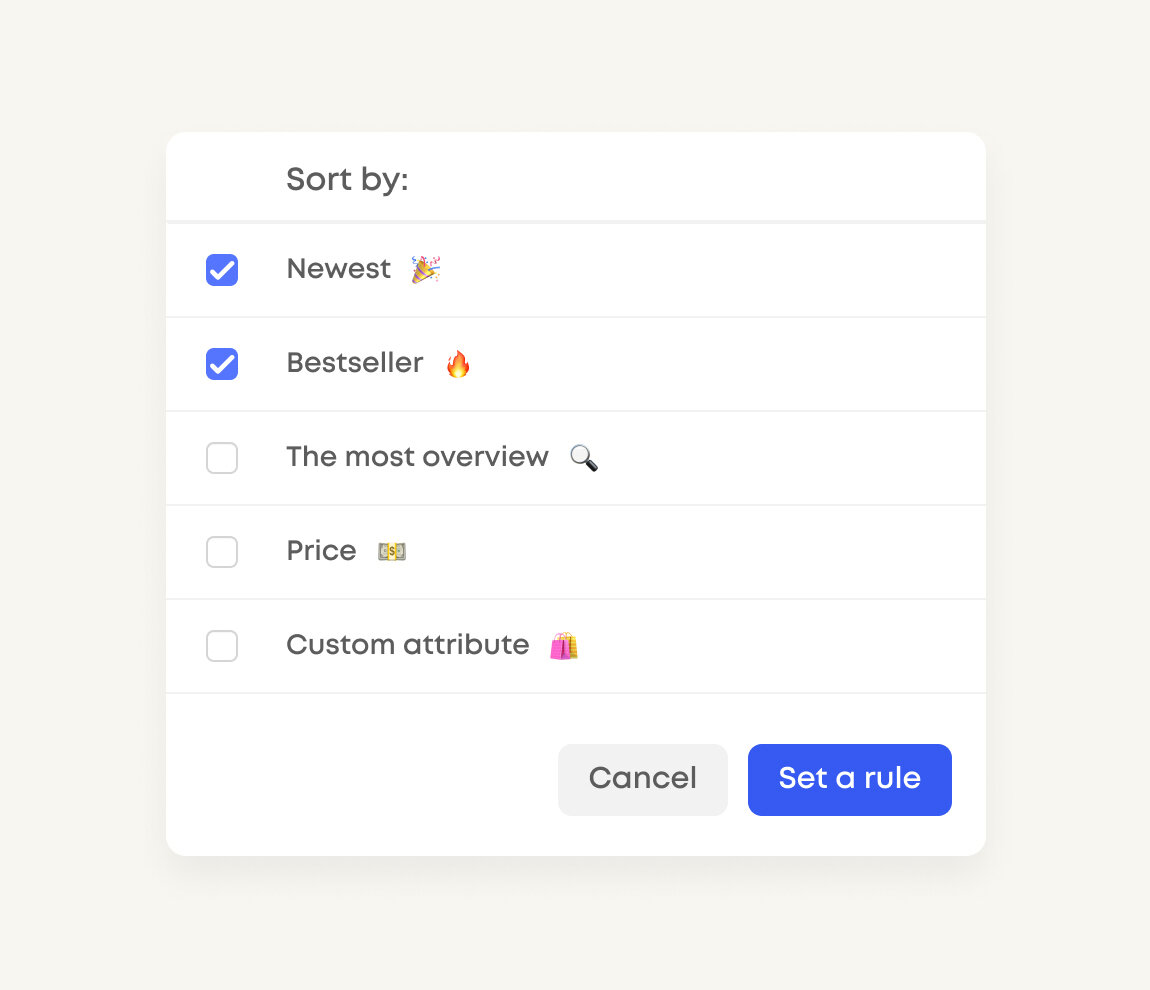 Manage Low-selling Products
Sortler provides flexible features to help you manage your low-selling items:

Tracking low-selling items
Raising the item position to the top
Applying discounts
Manage Running-out Products
Specify what percentage of running-out products to show on your pages and move the unavailable items down the catalog of your Magento online store.

Add Dynamic Product Blocks to Any Page
Add dynamic product blocks to any place of your Magento store. Display these blocks on your cart page, checkout, CMS, blog page, and any other of your choice.

Use the "Buy button" feature in any place.

Benefits
Compatibility
Sortler supports all popular eCommerce solutions, including Magento, Shopify, WooCommerce, BigCommerce.

Simplified merchandising
Your employees, work faster and the less time they spend on online visual merchandising tasks.

No Coding Required
Everything is designed in such a way as to put the smart sorting system into operation without delay.

Built-in emulator
Sortler supports all popular eCommerce solutions, including Magento, Shopify, WooCommerce, BigCommerce.

Backup feature
Our visual product sorting tool has a backup feature to undo the changes made. So you actually risk nothing.

Round-the-clock support
Being in touch 24/7, we're ready to answer your questions in real-time, whenever you need.

Ready to level up your store management?
NO Coding needed, Plug-&-Play.
Book a demo
FAQ
What is Sortler, visual merchandising software?
Sortler is a data-driven visual product merchandising tool for Magento online stores. It is a cloud-based system with access to a virtual catalog, easily synchronized with your Magento-powered online store. Using Sortler, you can create catalog management rules, which our tool will execute automatically without your participation. The result is improved product display and a better shopping experience, leading to increased conversions and sales.
Can your solution integrate with my Magento eCommerce platform?
Of course, our catalog management tool works perfectly with all relevant CMS solutions, including Magento. Subscribe to Sortler confidently because it is easy to use and ideal for eCommerce businesses across industries, helping you increase Magento store conversions.
How can Sortler benefit my Manegno online store?
Sortler is a great choice for visual merchandising for Magento online stores, and here's why:
Better product display. Arrange products in the catalog to attract customers' attention and stimulate their purchasing activity.
Improved shopping experience. A well-structured product display means that users can more easily find the products they need and turn from casual customers into loyal ones.
Simplified catalog management. Sortler makes Magento visual merchandising intuitive by automating many catalog management processes.
Can Sortler handle a large number of products in our catalog?
Sure, we created our visual Magento merchandising tool with your business needs in mind. Among other things, we provided for the possible growth of your company. If your assortment increases, you just need to choose a different tariff plan: the one that better meets your new requirements.
How can I use Sortler to manage my inventory?
Sortler is perfect for managing product display in a catalog based on your inventory. You can instruct Sortler to hide out-of-stock items and move a certain percentage of low-stock ones higher if you want to sell them faster. In this way, you avoid customer disappointment, which increases their loyalty along with Magento store conversions.
Is there a support team available to assist with any technical issues or questions?
Of course, if you have any questions regarding using Sortler for visual merchandising for Magento online stores or encounter any related issues, please get in touch with us for advice. We'll help you solve your problem so you can achieve maximum results.
Can I manage my poor-selling items with Sortler?
One of the great Sortler features that makes it a good choice for visual merchandising for Magento stores is the ability to take care of your low-selling items. The strategy for increasing the sales of underperforming positions looks as follows:
Instruct Sortler to make underselling items more visible in the catalog by moving them to the top of the page. Such a product display allows you to attract customers' attention to these positions, thereby increasing the chances of a purchase.
Set a period during which you give poorly selling products the opportunity to bring you profit. If sales remain below your target after the deadline, Sortler will automatically add a discount to those items.