As the US Department of Commerce study shows, online sales in 2022 were 15% higher than a year earlier. Therefore, it's time for eCommerce businesses to think about competition and ways to improve online sales conversions: the more players there are on the market, the more difficult it is to interest the buyer, especially since the eCommerce area has its own pitfalls. And we should go through them one by one.
Let's do it right away and discuss 5 key online store visual merchandising challenges. We'll also reveal working solutions to each one to ensure you and your eCommerce business won't suffer from them.
Challenge #1: Lack of Tactile Experience
The main challenge coming to mind is the inability to touch the product: there is no sensory experience. And you, as the owner of an online store, need to figure out the best way to compensate for this disadvantage, as the lack of tactile engagement can badly affect the bounce rate and conversions.
Luckily, there's a solution to this problem. All you have to do is to implement a few efficient eCommerce visual merchandising techniques.
High product display quality
Since the product cannot be touched, it should be appropriately presented, which means high-quality photo content. Good visualization of your goods is the first step for attracting the customers' attention and ultimately interesting them in your line.
Showing product in use
Another worthwhile idea is to demonstrate the product in action, figuratively speaking. For example, if we're talking about an online jewelry store, you can show a charming girl with a ring on her finger.
We provide more information about the best way to improve the jewelry conversion rate in our detailed article at the link.
The same goes for online clothes stores: post a photo of a woman or a man wearing one or another wardrobe item from your products. And if you sell, say, home furniture, show it in the interior. This way, you give consumers an idea of what they'll receive after making an order and also work on store conversion rate optimization.
Of course, this applies more to the product page, but sometimes an item in use can be shown in the online catalog as well.
AR or 360º visualization
It would be great to show your product using AR or at least 360 visualization. These features are more difficult and expensive to implement, but they'll have a good effect in the long run, reducing the bounce rate of your online store.
But remember one important rule: a well-designed product page supplemented with cool AR features matters a lot, but the catalog comes first anyway. After all, you must impress the consumers with your online catalog to ensure you have a chance of luring them to visit a page with a detailed description and an order button.
These 3 simple steps should be enough to get you started, increasing online store conversions. Moreover, all of our tips below will somehow help you make up for the lack of tactile experience.
Challenge #2: Ever-Changing Customer Expectations
Today, the consumer is more demanding of services and products than ever. This is due to various reasons, including rising living standards and high market saturation. We, customers, have plenty to choose from, so we're wildly capricious in our preferences.
But that's only half the problem, and the main one is that the tastes of modern consumers change along with the trends affecting them in one way or another. So your task as the online store owner is always to be aware of what your shoppers desire. If you can't provide them with what they want, expect customer attrition, for your former buyers may choose your more enterprising competitors.
Does such a perspective frighten you? In that case, let's discuss how to decrease your bounce rate and increase your online store conversion rate by meeting or even exceeding customer expectations.
The tips are simple at their core and interrelated:
Track and follow trends, including those related to the digital world. Most consumers react to them, expecting that your online shop will meet all the latest standards, whether it be multilingual support, catalog flexibility, or others.
Research your average buyer on an ongoing basis. Analyze customer behavior and adjust your business strategy based on new data.
Be flexible. Your online store cannot always be the same. One way or another, you'll have to update and improve it.
All of the above should form the basis of your online catalog management (which is a key part of your eCommerce project)
Challenge #3: Customer Journey & User Experience
You won't be able to satisfy buyers' expectations if your customer journey is poorly designed and leaves much to be desired. It's all about user experience!
Therefore, you should ask yourself how user-friendly your online store and, in particular, its product catalog are. Is each element placed where the customer expects it to be? Intuitiveness plays a major role in the user experience.
Take, for instance, something as simple as categorizing an online catalog. Shoppers are unlikely to buy your product if they don't see it in the correct category. It may sound simple and trite, but business owners need to pay more attention to product display.
The conclusion is obvious: by ensuring efficient product management, you improve customer experience.
Challenge #4: Online Store Optimization
Online store optimization is directly related to the conversion rate. An ill-designed, slow website with unreasoned navigation and a poorly-structured online catalog will hardly help you retain customers in any way.
It may seem we're talking about the user experience and the customer journey again, which is partly true. However, in this case, the topic is broader and deeper and deserves a separate discussion.
So, what is it all about?
A well-thought-out catalog search with advanced filter and sorting systems. Don't force the user to look for the right product for too long;
High page loading speed: ideally, to decrease the bounce rate of online shopping, you should ensure the page loading speed is within 1-5 seconds. According to Google analysis, if it exceeds 6 seconds, users are likely to leave your website;
Responsive design. Your online store and its catalog should look equally good on any screen and device, including mobile ones.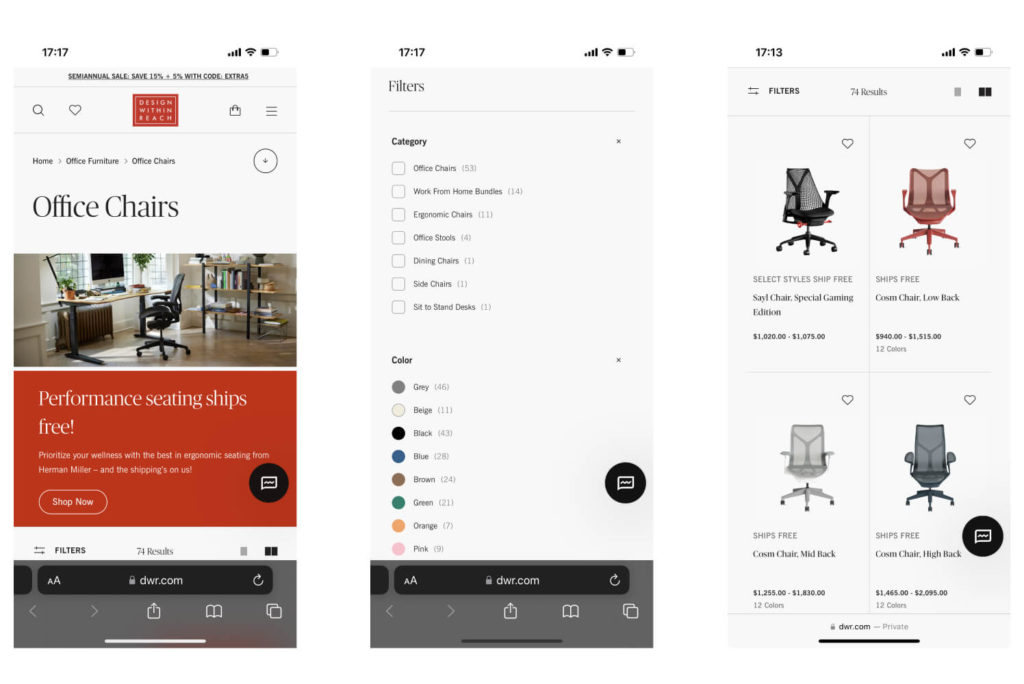 Ultimately, these tips will help with your store conversion rate optimization (as a consequence of optimizing your e-commerce website as a whole).
Challenge #5: Turning Users into Paying Customers
Of course, each of our above tips contributes to turning a random customer who accidentally came to your website into a paying one. In the end, you must admit that a fast-working online store with an intuitive user journey and excellent product visualization has every chance of retaining shoppers long enough for them to study your goods and place an actual order.
However, to fully cover this issue and reveal all its aspects, we want to share our expertise on effective online catalog management. That's a crucial step in your eCommerce business strategy, aiming to help you further improve customer experience and increase your store conversion rate, leading to higher profits.
Tips for effective online catalog management
Don't forget about discounts, and be sure to highlight them in your catalog. And do the same with popular products, bringing them to the first places in the catalog listing.
One way to identify popular products is to analyze user behavior. An item added to the wishlist several times can be safely considered demanded and should take a prominent place in your catalog.
Create beautiful matching product sets: for example, a ring, pendant, and earrings for a jewelry store or a hat, scarf, and gloves for a clothing one.
Move up those products in the catalog that correspond to the current season. For instance, if you run an online fashion store, highlight sundresses and sandals in summer and focus on boots and coats in winter.
And finally, move products with a high percentage of returns to the end of the catalog.
Such simple tricks will spur buying activity and decrease the bounce rate of your online store. Of course, you'll have to put a lot of effort into managing your online catalog, but the game is worth the candle. Moreover, an easy way to simplify your work is to use eCommerce visual merchandising tools like Sortler.
Conclusion
If nothing works with increasing online store conversions, ask yourself: what are you doing wrong? How well have you studied your consumer? Are you managing your online catalog properly? Does the mobile version of your website work correctly?
Perhaps your online store requires an update, in which case you need professional help. Our expert team is happy to assist, so feel free to contact us with your questions.