It all started many years, even decades ago, at the end of the 20th century, when Amazon sold its first product—a book—online, which ushered in the whole eCommerce era. Today, much later, this industry can boast at least $6 trillion in sales worldwide. The market is still evolving, and you must follow its path as an online store owner. Above all, this means working with eCommerce visual merchandising, part of which is effective online catalog management.
Latest Trends & Your Conversion Rate: What's the Connection?
It would seem eCommerce visual merchandising trends have nothing to do with increasing online store conversions… but actually, there is a close relationship between these concepts.
The thing is, trends didn't just come out of nowhere; they reflect the needs and expectations of the modern consumer. An online store that doesn't comply with them might disappoint the buyer, negatively affecting the business's reputation. That's why you should carefully study the next section of our article and apply its information to keep up with the times and thereby decrease the bounce rate of online shopping.
eCommerce Visual Merchandising Trends
#1. Customer-friendly Content Delivery
According to eMarketer research, sales in the eCommerce area will have grown by over 12% in 2023, so there will be even more shoppers than now, which is good. The bad news for you is the predicted increase in online stores, resulting in enlarged competition.
In other words, you are just one of the offers on the market. To attract and interest more buyers, you must ensure an impeccable shopping experience (in addition to excellent product quality, of course). Today we all want maximum comfort when shopping online, and your task is to provide it.
How can you use this trend to improve online sales conversion?
First, it's about the user-friendly approach when working with online store visual merchandising.
Simply put, always think from the perspective of your customer. What should online store elements, including the home page and product catalog, look like for a potential buyer to make an actual order and bring you profit? These are vital points for improving the customer experience.
In this blog piece, we provide 7 efficient and simple tips on how to increase your online store conversion rate.
#2. Seamless Mobile Experience
In 2022, total mobile sales exceeded $350 billion. And according to the latest research, by 2025, this figure could reach at least $730 billion… which is natural because today, many people make purchases literally on the go.
So if consumers find it inconvenient to use your online store through their smartphones, they're likely to leave it without any pity. To decrease your bounce rate, you should optimize your website for mobile devices. And remember to take good care of the online catalog and ensure that the users can easily find what they need and place an order.
As you can see, you shouldn't neglect any communication channel with the customer, including a tablet, even if it shows smaller traffic and revenue percentages (after all, these percentages also matter!).
#3. Younger Generation Makes a Change
A couple of years ago, mixed-age groups of people used to shop online. However, today buyers got younger: 80% of them are about 25-35 years old, regardless of what product the online store sells.
What does this mean for you as an eCommerce market participant? It's very simple: you must ensure your online store is easy to use and up-to-date with both industry requirements and the latest tech innovations. Ultimately, the younger the buyers, the more sensitive they are to new technologies.
It's also essential to find the most efficient approach to online catalog management and set the right accents: those that the younger generation will definitely respond to. For example…
The discount policy is still relevant; young people respond to them no less than older ones. And it's crucial that discounted products appear in prominent places in the catalog. Otherwise, there is a risk of the buyer not noticing them.
Beautiful sets of matching products are another great idea: for instance, a swimsuit, straw hat, sunglasses for a seaside holiday or a winter cap, gloves, and a scarf for frosty weather. Such sets have every chance to catch the customer's attention, especially if this customer belongs to the younger generation.
New products should also be visible in the catalog because young people do love them.
Of course, you'll have to work on your catalog on an ongoing basis, but there is no other way to succeed in the eCommerce market. On the bright side, pleasant bonuses include online store conversion rate optimization.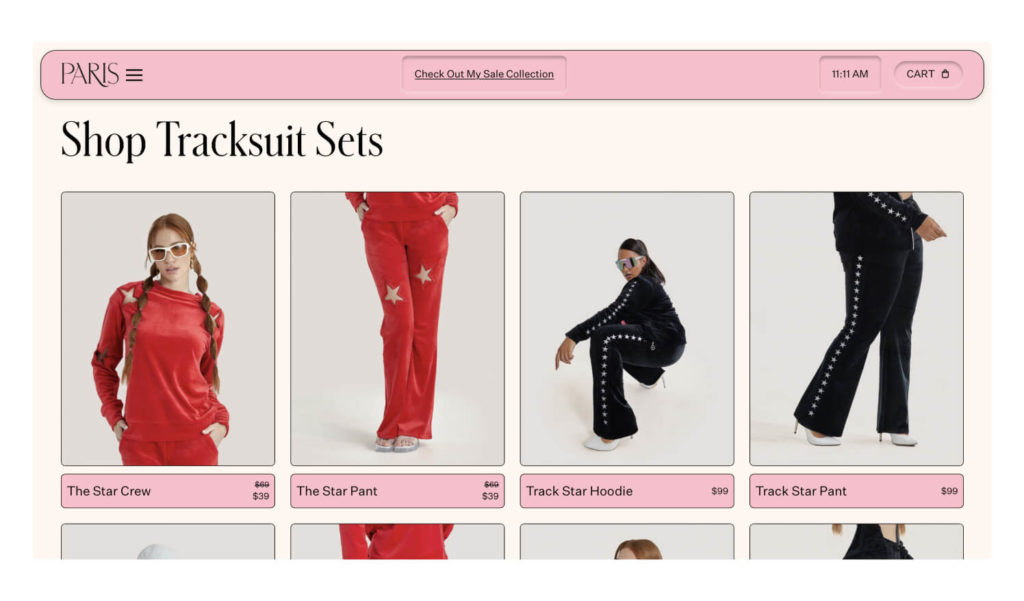 #4. Social Media Promotion
Surely, the modern consumer cannot imagine life without social networks (especially since the majority of online shoppers are young people, as you may recall). That's why your business strategy should include active promotion on Facebook, Instagram, and other popular platforms.
In addition to posting on the online store page, you can set up advertising on Facebook and Instagram. It is crucial, however, to take into account two factors, namely:
Smart targeting. Show ads only to consumers who may be interested in the products offered to make a purchase.
Redirects to the online catalog. Your customer must get to the correct catalog page after clicking on an advertising banner. To simplify this work and raise it to a new level, try using innovative online visual merchandising tools, which we'll discuss in detail a bit later.
#5. Environmentally Friendly Approach
It's no secret that our climate has worsened recently, and lousy ecology is to blame. Fully conscious of this, modern consumers are increasingly thinking about the environment and their own impact on its condition. Among other things, they prefer those brands that use an environmentally friendly approach to product production.
We advise you to rethink your business strategy and show that you, too, belong to the so-called green eCommerce community. Your online store visual merchandising strategy must convey this message most clearly: thus, you'll be able to win over shoppers whose lifestyle is based on green consumerism and healthy habits.
#6. AI-based Analytics
To improve online sales conversions even more, you need to use powerful analytics tools based on artificial intelligence. This way, you can quickly and efficiently process all incoming data on the current market situation and customer behavior and, based on it, make accurate business forecasts.
But most importantly, AI tools will allow you to cover requirements reflected in the next trend, namely…
#7. High-Level Personalization
Today's consumers are used to getting what they want anytime, anywhere. And your online store also has to live up to their expectations, which means high-level personalization.
The best way to personalize content is to implement AI-based features like recommended products. Also, AI tools can help you better process customer requests to meet your shoppers' relevant needs.
#8. Smart Technologies
And finally, another significant trend is related to eCommerce businesses and their issues. Its appearance is due to the natural desire of online store owners to simplify their work and streamline all management processes to the maximum.
The developers have already released many valuable solutions, not the least aimed at smart online catalog management. Let's look at how they work using the example of Sortler, a powerful eCommerce visual merchandising tool that has a lot of great features, such as:
Flexible prioritization of products in the catalog depending on various factors such as seasonality, novelty, stock balances, etc. Let's say you can move low-selling items higher in the catalog and move down those with a big return rate.
Creation of your own rules to automate product management: for example, new or running-out items will appear in the first places in the catalog without any additional actions on your part.
Innovative management of advertising campaigns to increase their impact and return. It is often the case that consumers remain disappointed with what they see after moving to the catalog from an ad banner. Sortler allows you to set up redirects to the catalog in such a way as to improve your chances of customers buying something.
Drag & Drop and other cool features.
In the long run, the active use of Sortler and other solutions of this sort can decrease the bounce rate of online stores and increase the efficiency of the eCommerce business in general.
Conclusion
Now you know how to reduce the bounce rate of your online store with the latest trends. Our tips are easy to bring to life; the main thing is to never rest on your laurels and keep working on your online store to ensure it always meets the changing tastes and expectations of your consumers.
Still have questions? Contact us, and our experts will be happy to advise you on all issues related to eCommerce visual merchandising and software development.